Jerry Rogers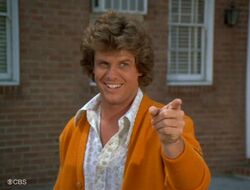 General Information
Family/Personal Information
Gerald "Jerry" Rogers
was an unethical star quarterback at a rival high school, who aims to steal Greg's football playbook in "Quarterback Sneak." Unknown to Marcia, Jerry asks to drive her home (so he can get in the house and thus at the playbook). Greg's initial suspicions are confirmed when Bobby sees an attempted theft. Marcia refuses to believe Greg about Jerry at first, but later sees Jerry's true colors when she witnesses the second attempt, which is successful. Jerry — who has actually stolen a phony playbook Greg created — is later kicked off the team when his coach finds out about the theft.
Ad blocker interference detected!
Wikia is a free-to-use site that makes money from advertising. We have a modified experience for viewers using ad blockers

Wikia is not accessible if you've made further modifications. Remove the custom ad blocker rule(s) and the page will load as expected.