Harvey Klinger

The bookish, nerdy Harvey, as played by William Corcoran in Season 2 of "The Brady Bunch" TV series.

General Information
About:
Starts going steady briefly with Marcia, before breaking up
Rather nerdy, bookish type who likes to collect insects
Family/Personal Information
Appeared on:
The Brady Bunch
Episodes appeared in:
"Going, Going... Steady" (Season 2)
Character played by:
William Corcoran
Harvey Klinger is a character who appeared in the Season 2 episode of The Brady Bunch TV series titled "Going, Going... Steady" The part of Harvey is played by William Corcoran.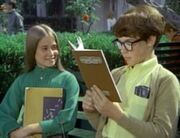 About Harvey
Harvey was one of Marcia Brady's first love interests on the show. A rather classically nerdy, bookish type, Marcia went steady with him in the episode "Going, Going...Steady." By the end of the episode they broke up. He was a considered by the rest of the family to be a nerdy insect collector.
Ad blocker interference detected!
Wikia is a free-to-use site that makes money from advertising. We have a modified experience for viewers using ad blockers

Wikia is not accessible if you've made further modifications. Remove the custom ad blocker rule(s) and the page will load as expected.