Bobby Brady
Talk

0
76pages on
this wiki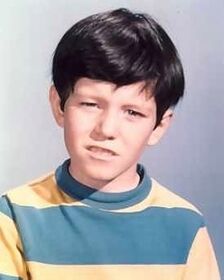 Robert Eric Brady was the youngest boy (and second youngest child) of the Brady Family. He is very close to his sister Cindy, though they often fight; they love and stick up for each other. The two youngest Brady kids bonded early on while lost in the Grand Canyon and became inseparable after their attempt at beating the teeter-totter record. He's close to his older brothers too, though because of the age difference, Greg and Peter sometimes mock him for his "immature and childish" ways. 
Bobby Brady's life has been steered by his insecurities. He's sensitive about his short height and is always in competition with one of his older brothers -- though he can certainly hold his own. He is better at doing chin-ups than Greg, and is quick enough on his toes to save Peter from being knocked out by a falling flower pot. Bobby's complexes often get the better of him, making him a bit of a trouble maker. He wants to win so badly, whether it's being the best pool player or hall monitor, that he often sabotages himself. He dreams of racing cars and lies to his friends about knowing Joe Namath. 
His personality is usually easy going, fun-loving, and mischievous. He spent much of his time daydreaming about adventurous careers such as being an astronaut, a skiing champion and even a cowboy. In a spin off series (the Brady's) he did become a racing driver but crashed and ended up paralysed from the waist down and in a wheelchair.