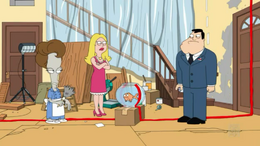 American Dad!
is an adult animated sitcom about a Stan Smith, a CIA worker and his family.
References to The Brady Bunch
In the episode "Rough Trade", Roger had a fantasy about himself hula dancing with Greg Brady and Magnum P.I.
In the episode "Home Wrecker", Stan and Francine got into an argument and separated both sides of the house. Stan said he saw this in an episode of The Brady Bunch. The episode he was referencing to was most likely the episode My Brother's Keeper. Roger then walked in, dressed as Alice and said that he was going on a date with Sam the Butcher, and then made an innuendo about Sam "bringing his big, uncut salami." and then sadly reminisced about how everything was so much simpler back then. The episode went to commercial break, playing Brady Bunch themed music.
In the episode "Garfield and Friends", Steve got hit in the face by a football and his nose swelled up, referencing to the episode The Subject Was Noses.
Ad blocker interference detected!
Wikia is a free-to-use site that makes money from advertising. We have a modified experience for viewers using ad blockers

Wikia is not accessible if you've made further modifications. Remove the custom ad blocker rule(s) and the page will load as expected.